| | |
| --- | --- |
| Delivery time: | 2-5 Work days |
You have a minute? Because this is about to get deep. Here you will find the information about the contents of this package, the purpose for it being selected for this particular package, links to each individual item, descriptions for each item and the key points of each product. 
This is going to take way longer to make than it will to read, please read first then inquire.
I love you,
Here we go...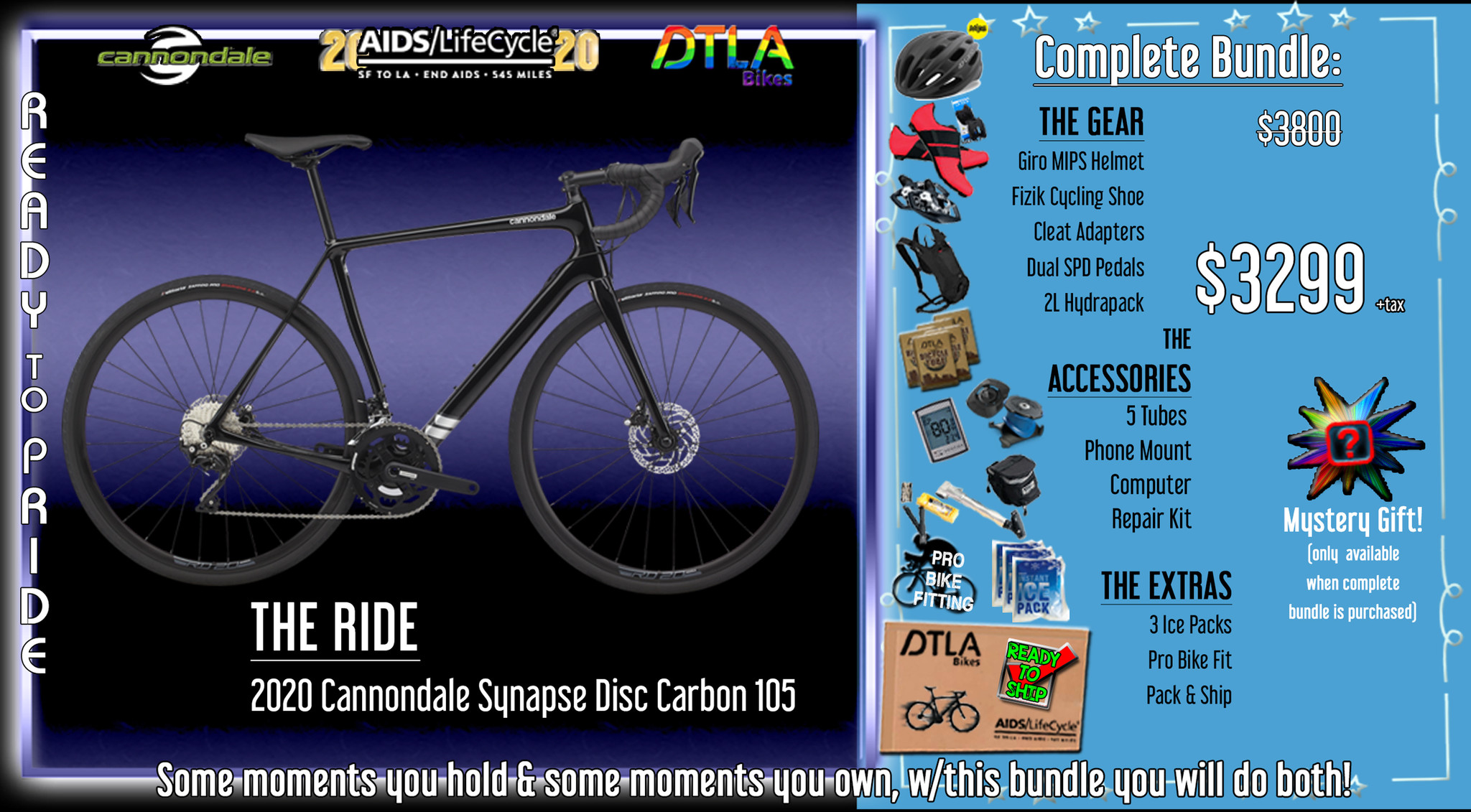 2020 CANNONDALE SYNAPSE DISC CARBON 105
The title should really be all the specs you really need to know. This insanely light, high-end ride, is actually floating, that's not a visual illusion*
Key Features of the bike:
GEOMETRY: ENDURANCE

 

BRAKES: HYDRO DISC

TIRES: VITTORIA 700X30
SHIFTERS: SHIMANO 105 2X11
CRANK: BB30A/FSA  50/34
SADDLE: FABRIC SCOOP 
CHAIN: SHIMANO HG601/11spd
BTM BRACKET: PRESSFIT 30
*The bike does not & will not float, but if you ride it right, it might glide
2 -

THE GEAR
In-Mold construction to keeps weight low and the assuredness of simple one-handed adjustments. Its the perfect companion for your riding, no matter how fast or how far you ride. Key Features, 22 vents for cooling the head, full hardbody coverage (that's what I'm talkin' bout), MIPS/multiple impact protection system, all in a compact and fashionable sports shell.
FIZIK TEMPO POWERSTRAP R5 SHOE: 
Another one of those, the name should explain the item. Buy for the versatility and keep for the sleek design & efficiency. Best road shoe for the long haul. Compatible with LOOK & SHIMANO it's also not too bad on the eye. I wouldn't wear it to the club, but they might pass at the country club*. Key Features: Independently adjustable instep & midfoot areas, straps are wrap around ribbons that enable more comfort for longer rides (this ride seems to qualify), & reinforced carbon outsoles for pedaling efficiency. (cleat adapters for the 2bolt compatibility easily make this versatile) 
*Just guessing, I've never been allowed, I mean, able to find time to become a member...
SPD DUAL PLATFORM PEDALS: 
Clip in or enjoy the freedom of a standard platform pedal with the Shimano PD-EH500 SPD/Platform Pedal. The dual sided pedal has SPD on one side and a platform on the other side. The adjustable entry and release tension springs allow you to quickly and easily get in and out of the pedals. Shimano SH-51 cleats included. Compatible with 2-bolt SPD shoes. 383 grams/pair.
Hydration packs are designed principally to transport water and make drinking convenient and efficient. In fact, with most hydration packs, you don't have to stop, or even slow down, to take a sip of water; you simply grab the drink tube that's connected to the included water reservoir. Which means you won't have to wrestle with or continuously refill your water bottles (or worry too much about all the gunk collected on the mouth piece during riding). Also, just extra hydration.
3 -

THE ACCESSORIES
DTLA 700x25-32 INNER TUBES (5pcs) :
Each tube comes shrink wrapped to preserve the integrity of the tube for a longer span of time ensuring that it will perform at the optimal level from the moment it is selected for duty.
Plus, there are directions on how to change the tube right on the back of the box. Easy to follow, step-by-step, simple, fast & clear.
SECURE MOUNTING
Featuring a patented dual-stage lock, you can ride with confidence over bumps and jumps knowing that your smartphone isn't going anywhere your bike isn't.
QUICK TO ATTACH / DETACH
Easily twist and lock to view apps while you ride such as Strava®, MapMyRide or Apple® maps. Detach just as easily so you don't miss a photo opportunity or important phone call again. Remember, it's all in the technique, not the force
Current Speed Average Speed Max Speed Trip Distance Auto Trip Timer Calories Speed Comparator Odometer Auto Scan Speed Tendency Freeze Frame Fat Burned Outside Temperature Stopwatch Programmable Repair Indicator 2 Bike Memory W/2 Wheel Size Setting Digital Clock Odometer
SERFAS ROADSIDE REPAIR KIT:
Carry everything you need for your next bike ride. The saddle bag is one of those nifty expandable bags to accommodate an extra tube or a bigger Multi-tool. tHE secure zipper closures give you peace of mind that what you put in your bag will be there when you need it. Dual valve mini pump. 6 piece mini tool. 8 piece patch kit
4-

THE EXTRAS
*
*not those annoying ones that are trying to become famous. Just kidding...
ICE PACKS (3): 
I'm just going to be honest with you. It's a 545+ mile ride... read that again, five-hundred-and-forty-five-or more mile ride. You will be sore, but ice will soothe some, not all, but enough of the aches to get you back in the saddle. Simply, remove ice pack from it's location, smack it against something (probably not a person), rub it between your hands until you feel the coldness spread evenly, then apply.
PRO BIKE FITTING
Benefits of bike fitting: better power and performance when riding. reduction in overuse injuries. proper body alignment. riding without discomfort. adjustments made to accommodate for things such as leg length discrepancy.
PACK & SHIP
You have to get your bike to San Francisco somehow and I really do not think you want to ride it there, only to ride it back... unless you do, then you are one of those kinds of people and I admire you highly... or you should see a therapist, either way. We pack & ship.
MYSTERY GIFT....
YOU'RE JUST GOING TO HAVE TO BUY THE BUNDLE TO FIND OUT. TRUST ME, IT'S WORTH IT.